By earning your Registered Life Planner® designation through Kinder Institute of Life Planning, you have the option of being listed in a searchable online database of life planners globally. Follow the directions below to register and update your profile with contact information, headshot, company logo, and information on your practice and experience.
Registering Email/Activating Planner Account
Go to planner.kinderinstitute.com/planner-cp/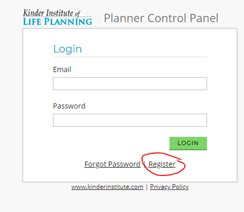 If logging in for the first time, press the Register button underneath the email and password login fields.
You will be taken to the screen to register your email address. It is important that you use the same email address that you used to register for a Kinder Institute of Life Planning training.
You will receive an email from Kinder Institute webmaster@kinderinstitute.com with the subject "Subject: automatically generated password." If you do not see this email, double check your spam folder in case it was filtered out of your inbox.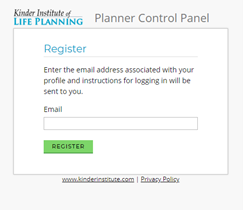 Log in using the password that was provided and update it to something you'll remember.
If you've previously registered your email and created a new password, then log in. Use the forgot password option to update your password, if needed.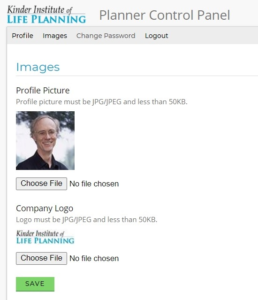 Adding Profile Photo and Business Logo
Once logged in, click on "Images" at the top of the page. Photos/logos must be .jpg and under 50kb. (If you are unable to adjust your photo sizes, then please send them to info@kinderinstitute.com and we can adjust and upload the photo for you once you have registered your account.)
When finished, click the "SAVE" button at the bottom of the page. (The photo may not show up immediately in the advisor portal, but it will appear on your public page on the Life Planner Search.)
Adding Additional Information

Complete the following fields with the information you'd like to be visible on the Planner Search. Any field left blank will not appear in the profile. When finished, click the "Update Details" button at the bottom of the page.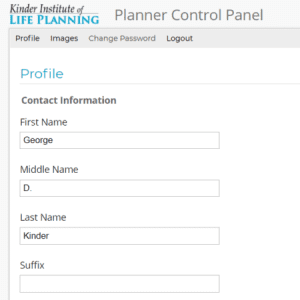 Specialties: Retirement, investment, tax, estate, insurance, education, divorce, sudden wealth, transition, business succession planning, etc.
Background: Tell us about your background, education, prior experience, and even hobbies.
Company: Give us a general description of your company, like the company name, how long in business, business philosophies, etc.
Clients: Describe your ideal client in terms such as age range, gender, interests, occupations, philosophies, etc.
Qualifications: Describe your ideal client in terms such as age range, gender, interests, occupations, philosophies, etc.
Compensation: Fee-based, fee-only, any affiliated financial institutions, securities & insurance licensed, fee & commission. Hourly vs. flat rate/retainer fees, assets under management.
RLP Since (year):
Industry Start (year):
To check your pubic profile on the Kinder Institute's website, visit kinderinstitute.com/planner-search/. If you have any questions, please email info@kinderinstitute.com.