Learn how to collaborate with clients to bring about their best and most meaningful lives by doing more than just dispensing advice.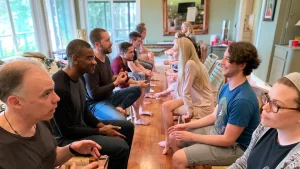 EVOKE Life Planning Training is offered in-person and online.
"Exploration, Vision, Obstacles, Knowledge, and Execution" (EVOKE) is a four-day (online) or five-day (residential) course that teaches how to use a structured, but open-minded and empathic, interview process to uncover clients' core values and highest aspirations. Learning to use this process will enable you to provide effective and meaningful support to their unique life circumstances and goals via your financial expertise.
During this experiential training, you'll develop the listening and facilitation skills that form fiduciary relationships that build trust, draw on your expertise, and are enriched by collaboration with your clients.
You'll experience the EVOKE model as both an adviser and client, working on these life-planning skills with a course partner. By modeling and experiencing both sides of the exercises and getting trainer feedback from life-planning professionals as you learn, you'll develop a well-rounded understanding of the skills required. You'll learn how to implement EVOKE into your new or existing practice and become ready to engage clients in more meaningful discussions about their values and their future.
Financial life planning is the future of the financial advising profession, and this course provides and demonstrates the methods to create a client-centered financial practice. When you've completed this course, you'll know how to help clients be the heroes of their own stories.
Eligible for CPD Points/32.0-40.0 hours in the U.K.
Provides 10 CE hours for CFP® professionals.
"The EVOKE Life Planning Training was a masterclass on intentional and empathetic listening. This is a learnable skill that anyone can do. If you are giving life or financial advice to clients, this will be a true game-changer for you and your clients."
Upcoming Courses at Kinder Institute